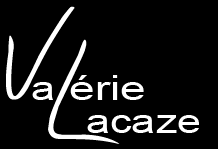 FREELANCE
CHOREOGRAPHER & PHOTOGRAPHER
Member of the International Dance Council CID
"Artists do not create for their own sake. They are driven by an irresistible life force.
Its impulse does not come from nowhere; it comes from a world that stabs and jolts them and takes away a part of them, without their knowing it.
Art is an expression of the divine in that it says what words can never say.
The light is always there for us to see, but only Art can survive the chaos."
Valérie Lacaze - 2016
" Les artistes ne créent pas pour eux mêmes mais dans un élan vital irrépressible.
Cette urgence ne vient pas de nulle part... elle vient du monde qui les transperce, qui les bouscule, qui leur prend une part d'eux-même à leur insu.
L'Art est une expression du divin, au sens où il parle ce que tous les mots ne parviendront jamais à dire.
La lumière est devant nous, toujours. Seul l'Art peut survivre au chaos... ".
Valérie Lacaze - 2016

Website & logo created by Valérie Lacaze - Copyright 2013